Adobo
Adobo
is one of the most popular viands in the Filipino cuisine. Its name though was lifted from a Spanish word pertaining to spices.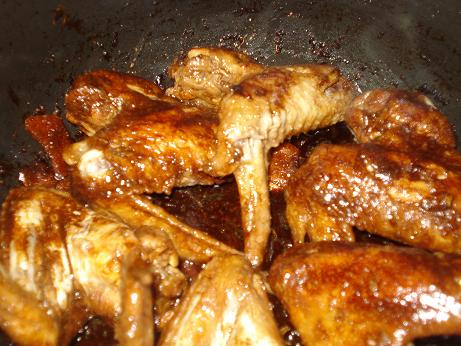 When the Spaniards came to the Philippines, they encountered a unique method of cooking done by the natives which involves simmering meat in vinegar and salt. This method of cooking by the Filipinos enables the food to last longer because of the preserving action of the condiments. The Spaniards termed the dish "adobo" which means marinade or seasoning in Spanish. Since then, dishes prepared in this manner were called Adobo.
There is also a Spanish dish that seems related to the Philippine Adobo due to its name, "adobado." They differ, however, on the recipes.
Adobo, usually, is a dish made of pork or chicken, or both, slowly cooked in soy sauce, vinegar and other spices, and sometimes fried afterwards. Other meats though can be used as the main ingredient, such as squid, fish, and even vegetables (e.g. kangkong adobo, string beans adobo).
Pork / Chicken Adobo Recipe
Adobo Ingredients:
* 1/2 kilo pork cut in cubes + 1/2 kilo chicken, cut into pieces or choice of either 1 kilo of pork or 1 kilo of chicken
* 1 cup potatoes cut in same size as meat -optional
* 1 head garlic, minced
* 1/2 onion, diced
* 1/2 cup soy sauce
* 1 cup vinegar
* 1 teaspoon paprika
* 5 laurel leaves (bay leaves)
* 4 tablespoons of cooking oil or olive oil
* Salt and pepper to taste
Adobo Cooking Instructions:
* In a big sauce pan or wok, heat 2 tablespoons of oil then sauté the minced garlic and onions.
* Add the pork and chicken to the pan and fry in oil until slightly brown.
* Add 2 cups of water, 1/2 cup of soy sauce, 1 cup vinegar, paprika and the bay leaves. Do not stir. Bring to a boil. Cover and simmer for 30 minutes or when meat is tender.
* You can add the potatoes at this point. Stir and add salt and/or pepper to taste.
* Bring to a boil under low fire until potatoes are tender then simmer for an additional 5 minutes.
* Serve hot with plain rice.